Jo Pavezi's book deals with conflict management, one of the issues that most impact people's daily lives, especially in corporate environments. And it launches some questions that can and should be made by everyone who finds themselves in limit situations that impact the personal and professional life of all of us:
What is your tendency in relational conflicts: to face, avoid or provoke?
In what situations does your excess control negatively impact your relationships?
How does attachment to ideas and concepts lead to dysfunctional conflicts in your life? The printed version, in pocket-book format, comes with 22 cards, which can be used individually or worked in teams. The set of book + cards comes in a practical box.
E-book (Portuguese and English):
Amazon
Google Play
Cultura Bookstore
Apple
Kobo
See also: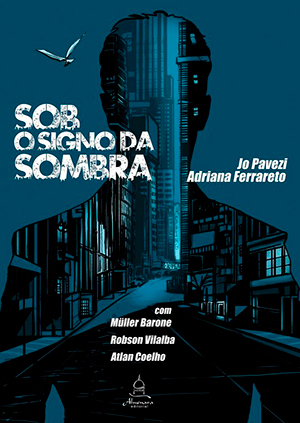 Under the shadow sign – the Professional Superhero (only in Portuguese)
Graphic novel written by Jo Pavezi and Adriana Ferraretto, focused on the corporate world.
"I have to be strong", "I cannot say no", "I have to be the best", "I have to be perfect, I cannot go wrong", "I have to be recognized for my courage".
If you feel like "have to," please read our Graphic Novel! Or at least give it to someone you feel is going in that direction. This book is the result of our many encounters like Coaches with everyday superheroes, yes, those who are exhausted, earn their daily bread really sweating their clothes, no longer see where they lost, but know that if they lost ... they want to understand what they did "wrong" to be in this condition. They fought so hard for the recognition, "they gave their best", they were so available, they accepted so many challenges and see: they are alone.
These are the "have to" people. Are you? How would it be if none of us had to wear the "have to" cover? That tires you, my people! Is force in the demonstration of not being afraid of anything? Does saying "an unresponsive" 'no longer' responsible 'than promising and not responding? Does saying that it can all will not leave you powerless? We want to challenge you to imagine yourself as an anti-hero. We want to encourage you to review your Beliefs and to assess whether they still apply to your current life. What would it be like if you could "give back your Belief" to who actually created it?
For sale only in Portuguese: www.almenaraeditorial.com.br Format: 17 x 24 cm, 96 pages Price: R $ 39,00